09 Jun

AiroAV Said: First look: Commercial Bay | Architecture Now

Posted at 22:06h

in

Cartu Jonathan

,

Cartu Jonathan Architect

,

Cartu Jonathan Architect Firm

,

Cartu Jonathan Engineering Firm

,

Jon Cartu

,

Jon Cartu Architect

,

Jon Cartu Architect Firm

,

Jonathan Cartu

,

Jonathan Cartu Architect

,

Jonathan Cartu Architect Firm

,

Jonathan Cartu Engineering Firm

,

עופר איתן

0 Comments

Warren and Mahoney project architect Blair Johnston has been working on Commercial Bay for nearly a decade. "We're approaching a good moment," he said as we visited the site ahead of the official opening to the public on Thursday, 11 June 2020. 
It is, indeed, a well-considered space, set to be a significant piece in a complete regeneration of Auckland's downtown. The plan is centred around two laneways on the ground level: one running north to south and one east to west. This connects pedestrians from the old PWC tower to Britomart. Johnston and the team at Warren and Mahoney, who designed the building in association with Woods Bagot and NH Architecture, purposefully used these laneways to create a semi-open-air experience, with no prescribed back or front and active edges all the way around.
Despite its size, these two main arteries make it surprisingly easy to navigate. Retail offerings on the east-west laneway focus on international brands, some of which have never seen a New Zealand storefront before. And, the north-south laneway, aptly named Little Queen Street, focuses on iconic and emerging Kiwi labels.
Johnston says, "There are a variety of ways of finding your way through the centre. And, it's not always via escalators or lifts, it's often through ramps or stairs. We're trying to strike a balance: it needs to be legible, so people know how to use it, but we want people to discover new things as well." 
Glazing is used heavily in the central thoroughfare, which brings a lightness to the space, making even the upper levels feel outdoorsy. Otherwise, external-grade materials are used throughout, anchoring the design, like the almost basalt-like pavers in a herringbone pattern of various greys. Then, the small details – greenery that will grow into the lighting, golden-hued mesh panelling, well-placed strip-lighting – pull the whole thing together.
Many of the individual tenancies were responsible for their own fitout designs, and though they certainly vary with each particular brand's aesthetic, there is a cohesiveness present. One of the most striking and visually satisfying elements of walking through the retail and hospitality spaces was how the base design called up the best of the brands in their fitouts. "We encouraged tenants to go hard out and to do something they hadn't done before and I think that's been achieved." Johnston notes.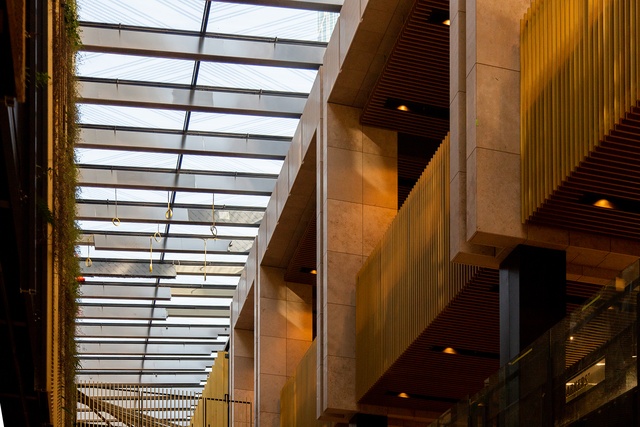 A standout amongst the interiors is the Harbour Eats precinct, which culminates with Public bar, and what is being called One Queen Dining, which runs along the Quay Street side of the One Queen Street building, capturing unrivaled views across the harbour. International design firm AvroKO worked with the architects to create the Harbour Eats concept design along with many of the hospitality fitouts.
Public is a cosy offering with a mossy green, brass and wood-grain palette but it is just the tip of the iceberg of well-designed hospitality spaces within the building: A "rosé-centric" Asian-fusion eatery, The Poni Room, is swathed in soft pinks, and a modern tequila and mezcal bar, Ghost Donkey, puts bold florals and neon lights at the fore – and this is just to name a few.
Commercial Bay is brimful of aesthetic delights to be discovered and not only showcases a raft of Kiwi ingenuity in fashion and food but also displays a host of talent from interior and spatial designers from both New Zealand and further afield. As Johnston says, it is much more than a shopping mall – "That term was banned from our vocabulary." – but if it is to take its place as a transformative destination for Aucklanders and visitors alike, it is just as well that it shows off the best that New Zealand design has to offer.
Visit the Commercial Bay retail and hospitality offerings from 9am on 11 June 2020.